We can provide simple services, such as documenting an event for your archive, complex services, such as multi-camera recording, editing and syncing with separately processed sound, and collaborative services, such as combining source material from members of your audience into a finished project suitable for online viewing, application videos, promotion and advertising or fundraising DVDs.
For example, your musician has spent many years of lessons, practice and perfection preparing for their final recital. We can record the audio discreetly using professional equipment, eliminating room noise and controlling reflections, allowing us to clarify and enhance the sound, then sync it with multi-camera video for a wonderful keepsake, suitable for college applications and auditions.
Audition videos for contests, college or scholarship applications should be of the highest quality. With our specialization in the performing arts, professional audio and video recording and light processing will allow your audience to focus on nuances of the performance.
Your sporting event or adjudication can be documented for archive, reference, training or sharing online. We can provide any level of service for your recital, tournament, concert, virtual-dressage, research project, or anytime you need a higher quality recording of your event.
Using equipment ranging from pocket-sized HD video recorders to compact-form professional gear, we can discreetly capture your event and edit the footage into a high quality finished project.
Multi-camera editing, sound design, titling, special effects, DVD authoring, and anything in-between can be added to your video, depending on the scope and needs of your project.
For schools and non-profits, we specialize in reduced-cost collaborative projects for promotional videos and fundraising DVDs. We enlist members of your audience in varied locations to capture footage that we edit together into the finished product. This works well for concerts, plays, recitals and is a less expensive way to get your project rolling. We then provide a master recording and let you use our manufacturing partners for bulk duplication, packaging and even distribution, giving you even more room for fundraising profit.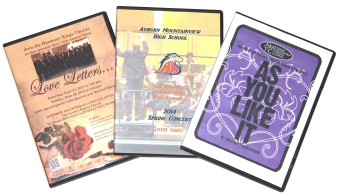 Here are examples of some of our collaborative projects.
Clients include:
Federal Way Harmony Kings Chorus
Auburn Mountainview High School Band Parents Association
AKEA School of Self Defense
Rainier Middle School Drama Club
Auburn Mountainview Theatre Company
Covington Voice Studio (Member, NATS)
Sweet Adelines International – North by Northwest Region 13
Barbershop Harmony Society – Evergreen District Division II
"Whipped Cream" Herb Alpert Tribute Band featuring Bobby Medina
Kitsap Chordsmen Barbershop Chorus
Contact Us to discuss the unlimited configurations and possibilities for your multimedia project.