---

Thank you for participating in this year's virtual recital. For consistent results from so many performers, it is important to read and follow these instructions, and to practice with your accompaniment track in front of the camera. Recordings must be submitted through the upload form on this page, not by email, Dropbox, iCloud or any other method unless specifically instructed. If you encounter problems, a tutorial video explaining how to record and upload is linked below, which solves about 97% of all problems (most often a missed step in the process).
Please submit your recordings no later than Friday, June 18! Don't wait until the last minute in case there are problems and you need to record again.
Choose a quiet place to record. Not outside. Not around TVs, noisy fans, appliances or pets.
Make sure you are well lit, but without bright lamps or open daylight windows behind you.
Check that your background is not cluttered or there is nothing you don't want others to see in frame.
Practice with your accompaniment track several times to learn and match the timing. There are additional cues which help create a better "virtual recital" project.

Start recording when you start the accompaniment track, even though the music starts after a few seconds of instructions.
Smile for the camera during this time. This will be used for introductions.
At the end of your song, you will be promted for a bow, then hold/smile for the camera
Applaud for your peers who are also singing in the virtual recital, during a 5-4-3-2-1 count.
Hold at the end, smiling, to allow time for fade-out.

No special equipment needed. Simply record using your phone, tablet or PC with webcam.

It may be easier to listen to your accompaniment track on another device or computer while you record.

Use headphones or earbuds

to keep audio from the guide video from bleeding into your recording.

NOTE: WE CANNOT USE RECORDINGS IF THE GUIDE AUDIO IS HEARD

!
Use a tripod, music stand, prop on a shelf or find some method to hold the camera still just a little lower than your face. You should not be looking down at the camera on a table, as your audience would be in front of you, not below you.
Do not hold it in your hand to record as

SHAKY VIDEO CANNOT BE USED

.

TIP: A small phone-holder with flexible legs can be found on Amazon for $10-$20 and is handy option to hold your phone for lots of fun shots by wrapping around posts, rails and more. Search "Phone Tripod" or "Selfie Stick" for lots of choices and ideas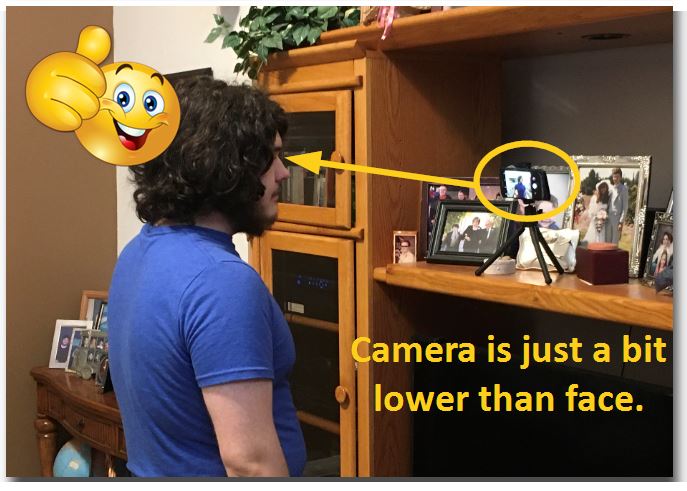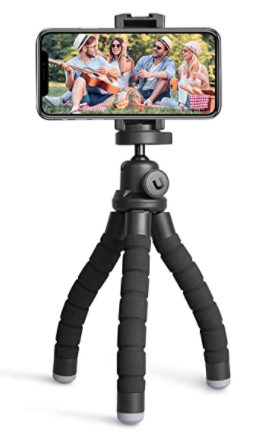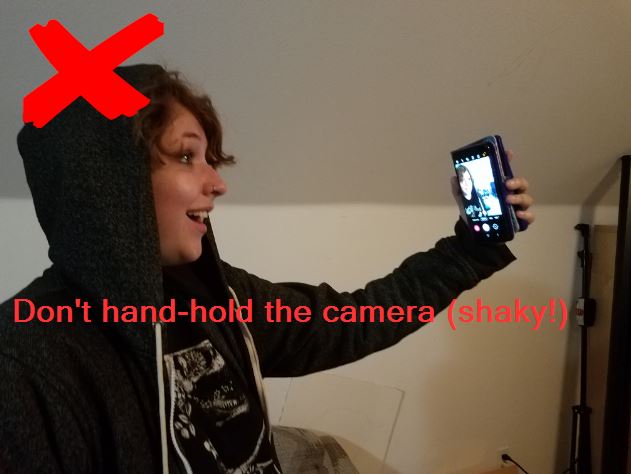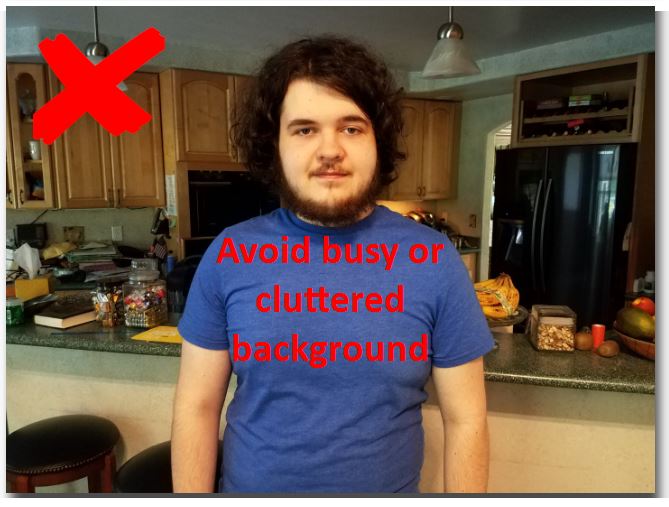 If using a phone or tablet, record with the device HORIZONTAL (Landscape), like a monitor or TV screen, not VERTICAL (Portrait) like you would hold the phone while chatting with a friend. This will give the best consistency between performances, ensure the best video quality and help achieve good framing.

NOTE: VERTICAL VIDEOS CANNOT BE USED!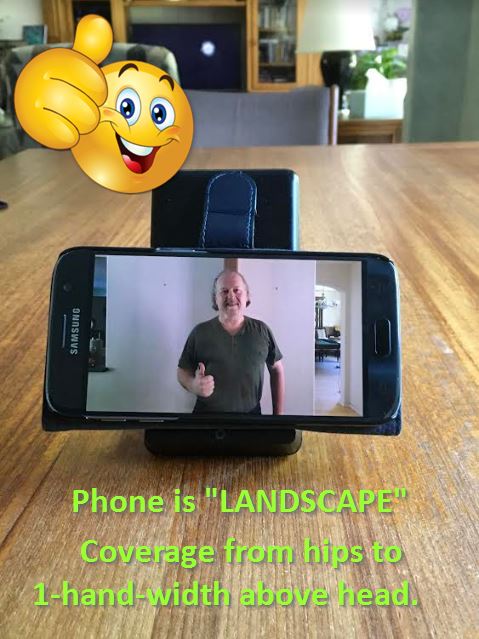 Frame yourself from hips or belt-line to a bit higher than your head, as you see in the photo below. This is also a good distance from the camera's microphone to reduce room noise and echo. Don't get too close or part of you may get cut off, especially if you move around a little.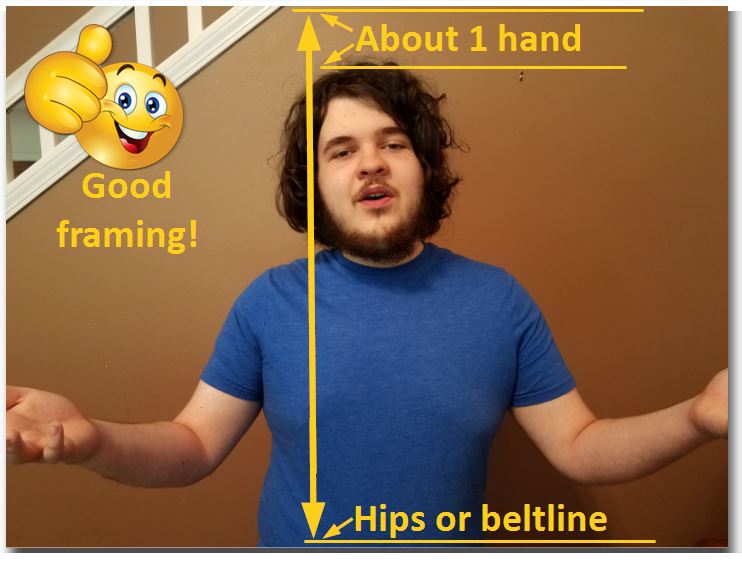 Start recording when you start the guide video. Keep recording until the guide video tells you to stop. Otherwise there is no time to fade out (It will be trimmed)
TIMESAVING TIP! If you can access the settings in your camera app, set it to record at 1920 x 1080 30fps. (Otherwise don't worry about it) The reason is because recording in 4K makes huge files of a much higher quality than is needed, and some iOS devices may fall asleep just preparing the file to upload.
Upload the video using the form below the video

ONLY

. (Do not try email or messaging!)
We have made the process as simple as possible for a wide range of technical abilities. Please watch the video below if you have difficulties recording or uploading your video, as this solves nearly all problems! If you still encounter problems, contact me by replying to the email with your accompaniment track. I'll help you get the file uploaded.
Are you ready to upload your recording to the project? Use the form below.
You must complete ALL fields, and accept the talent/media release to be included in the project.
TIP: When you select the "Add Your Files" button below from your mobile device, you must find your video's location.

On Android, first try the "

Files

" action, otherwise use "

My Files

" to browse your way to the "

DCM

" and "

Camera

" folders (Videos usually end with extension

MP4

).
On Apple, select "

Photo Library

" and "

Videos

" (Videos usually end with extension

MOV

).

Make sure you are using WiFi, not mobile data, or the upload may fail.
Set your phone to stay awake, if that feature is available.
---